We all know how pathetic the British Raj was, especially in the last phase, when they deliberately tried hard to divide the Indians. As a result in the year 1946, Calcutta (now Kolkata) faced the most shocking time in terms of communal riot. Perhaps 16th August, 1946 was a black day in World History. At this disturbed time of the year, Samaj Sebi Sangha Club was established, with a new ray of hope.
Forming of Samaj Sebi Sangha Club was almost a blessing in disguise at this panicky atmosphere. It was hard to believe, when a few youngsters laid their foot with their idea of bringing peace at the heart of Bengal, or rather Calcutta. May be it was against the clock, but it was their supreme belief and strength that helped them to fulfill their mission. With this effort they started social services by bringing an end to the violence and gathering the localities to create a new beginning of harmony, peace and prosperity.
Ballygunge, with a small population was a developing wing of Calcutta at that point of time. It was difficult staying in such a dingy settlement. Then onwards came up those few youngsters namely Panchu Charan Mondal, Amal Roy Choudhury, Anil Kar, Manik Choudhury, Ashok Mitra, Sushil Dey and Sachidananda Roy Choudhury. They used to meet at the crossing of Lake Road and Lake View Road in front of Shri. Kalidas Mukherjee's house with some seniors and had their meeting. May it be any kind of natural calamities or local problems, all issue were taken up by the group with a view of helping the common people.
'Ace up your sleeve and work for mankind', was the theme of their group. At that time of communal disorder in 1946, they worked hard in the troubled areas and helped the wounded under the supervision of Indian National Ambulance Crop. They worked almost the whole day and even at night they guarded the locality as a result to protect the area from any nuisance. Prof Dhruba Dutta in company with other Patrons and Senior Members guided the groups to be more disciplined, powerful, sincere and united. These social activities for mankind were spread all over and were acknowledged by the leaders of the "Social Service Center". In a way it was a boon as well as a blessing for this youth. Leaders, who encouraged and appreciated the youth, were Shri. Meghnath Shaha, Shri.Sharat Chandra Bose, Shri. Jodunath Sarkar, Shr. Anil Roy, Smt. Lella Roy and many other freedom fighters and people of eminent character.
Smt. Leela Roy, a renowned freedom fighter and one of the closest associates of Netaji Subhas Chandra Bose planned to meet the group of youngsters at Taradas Dutta's house. She seemed to be extremely pleased and appreciated their nature to work for the human soul. The leader also suggested them to work hand in hand in a planned way. She recommended carrying out their social works successfully by forming a club with its executive committee. The club was founded by the group of youth and was named "SAMAJ SEBI SANGHA" as suggested by the great leader Smt. Leela Roy. She also directed them to organize the 'SRBOJANIN DURGOTSAV' every year for the unity, joy and happiness amongst the localities. Since then this spirit and legacy has been carried out by the devout members of the club.
The 'ullur dhani', 'the rhythm of dhaks', 'pushpanjalis', 'burning dhoop', 'chanting of hymns' and so on. 'UNITY' was and is still is their 'theme' which made and is still making Samaj Sebi Sangha successful in creating that bondage between Hindu-Muslims with love. The puja has helped to bring along people of different age to worship Ma Durga in their own way without any hatred and fear. 'Durgaotsav' is the first priority and the most important celebration of this club. Since the inception, committee members never failed to play their role as the sincere workers of the society. Through out the year they keep themselves busy in various social works. Every year in 15th August they organize free eye check-up camp, health camp, distribute clothes to the poor affected from natural calamities and so on. They had also organized camps for cataract operation for the needy, have lend their helping hands to the cancer patients by giving monetary help and etc. They are proud of their work and needless to say that they have and are still performing their sincere duties towards the society.
Samaj Sebi Sangha has a very unique and out of the world thought about cultural programs. Their cultural program is done in a process to achieve success in two various fields. Firstly, their social responsibilities and endeavors and secondly, the money which is collected by the club for cultural program, are allocated and distributed for the social works. One of the oldest Durg puja's of Kolkata, Samaj Sebi Sangha will be celebrating its 73nd year of high spirits this year. The annual visit of Ma Durga with her children is thought to bring happiness and well-being to the people. You will be simply amazed to see their efforts made by the committee in respect of creating idols, pandals, working on brilliant lightings and at the same time managing the social works. This creative spirit is merged with social responsibility to usher that sense of charm and devotion.
Last but not the least Samaj Sebi Sangha is proud and honored to mention some of the important names of their senior members without whom the club has no value. The guidance to structure the club and organize the 'Durgotsav' was given by Lt Sri.Birendra Maitra, Lt Shri. Dhirendranath Bose, Lt.Shri Laduram Khaitan, Lt.Sri Taradas Dutta, Lt. Shri.Ramendu Ray and so on.
Hopefully, the club will carry on their legacy of selfless human support and help in the years to come.
1946
Samaj Sebi Sangha Club was established
1970
Samaj Sebi Sangha Club reached Silver Jubilee
1995
Samaj Sebi Sangha Club reached Golden Jubilee
2019
Working with special childen this puja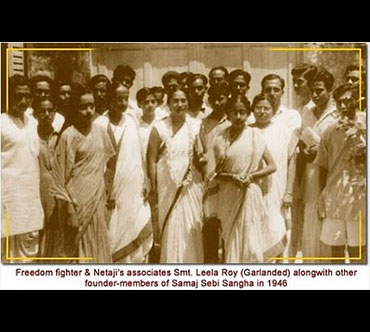 Freedom Fighter , Netaji's associates along with our founder member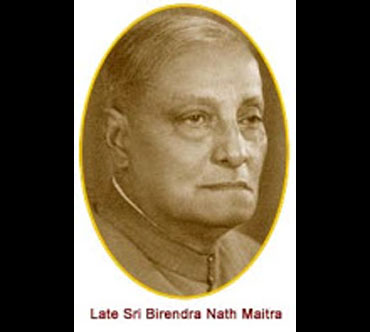 Late Sri Birendra Nath Maitra

Late Sri Direndranath Bose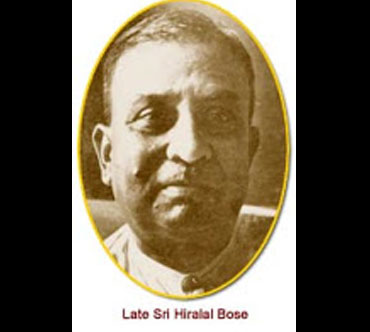 Late Sri Hiralal Bose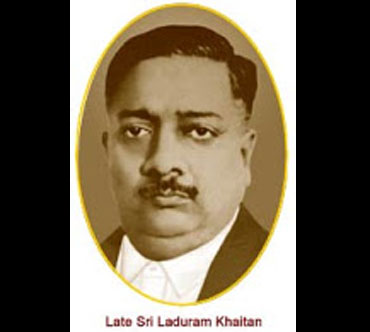 Late Sri Laduram Khaitan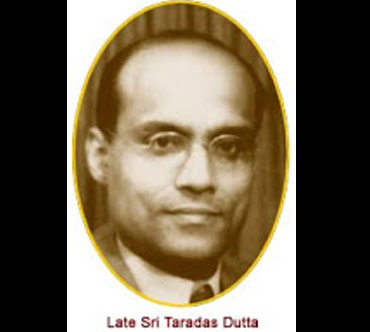 Late Sri Taradas Bose